David's Las Vegas Birthday Trip
The day before my 30th birthday party, Dawn and I went out to go to Toys 'R' Us to get a bunch of Silly String for the party. Or so I thought. Dawn was driving, and she didn't take us to Toys 'R' Us at all. Instead, we went to the Burbank airport, and got on a plane to Las Vegas! Imagine my surprise. It was my first trip to Vegas, and Dawn's second.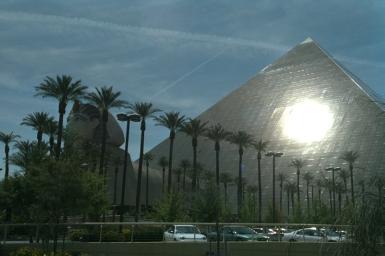 We had reservations at the Luxor. This turned out to be a very nice hotel, comfortable and only a little over the top.

(As opposed to some of the other hotels, which were comfortable and way over the top).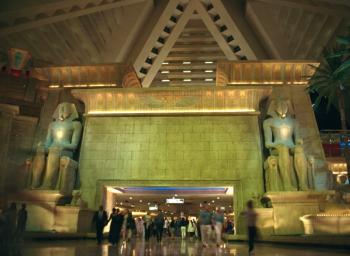 The entrance into the casino at the Luxor.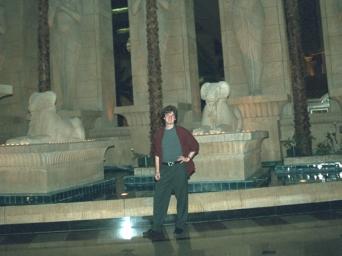 A suave gentleman preparing for a night on the town. I still didn't know what Dawn had in mind.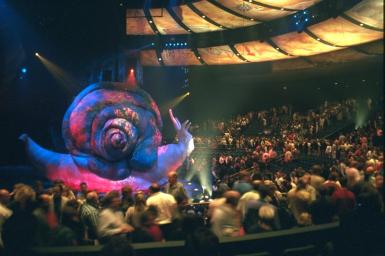 It turned out (as I should have guessed) that Dawn had gotten tickets for us to see Mystère, the Cirque du Soleil show that performs at Treasure Island. A fabulous show! I snapped this picture at the very end of the show, as the audience is beginning to disperse.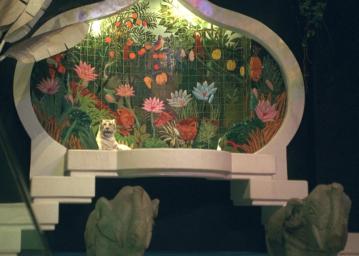 After the Cirque show, we wandered around to see the sights a bit. Here's one of the white tigers used in Sigfreid and Roy's act.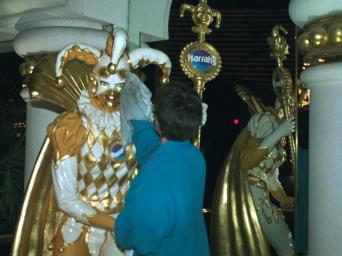 And this conscientious employee at Harrah's is keeping the welcoming jesters looking shiny. (She was a little embarrassed to be caught in a photograph; I didn't get a chance to get a second shot.)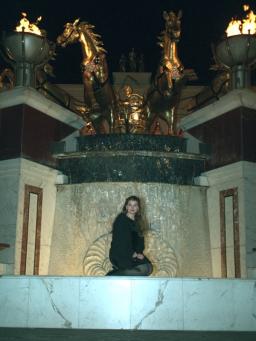 Dawn poses in front of Caesar's Palace.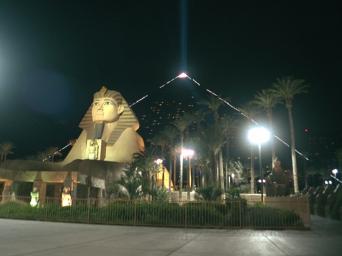 The Luxor at night. Quite a striking silhouette.
The next day, we had only a little more time to walk around the strip before we had to catch our flight home. Then it would be time to get ready for the party! We had to call Jesse and ask him to pick up the Silly String that we didn't get a chance to.

On to David's birthday party

Return to scrapbook index