The reception
We held the reception at the American Legion Hall around the lake. We arrived there almost an hour later than we'd originally planned, but still in good spirits. Fortunately, so were our guests.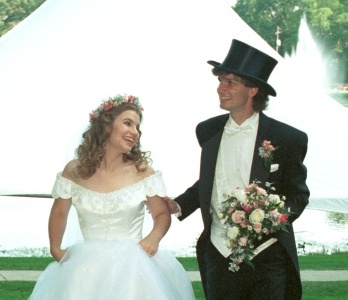 The band was just about ready when we arrived, so we started the evening going with the first dance, to Cole Porter's ``Night and Day.''
Even though we'd just spent all morning decorating the hall, we still couldn't get over how beautiful everything was!
Then everyone joined us on the floor. The band played our favorite dance tunes all night--it was hard not to dance!
Meanwhile, there was plenty of food for those who weren't in the dancing mood. Everyone waited for us to have some before they served themselves--so we made it a point to fill up our plates early. (Our filled plates spent most of the night untouched at our table.)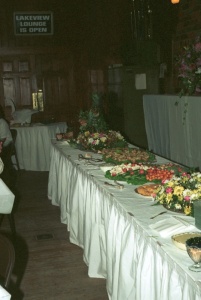 When the band took a break, we took advantage of the time to cut the wedding cake. It was a red velvet cake, moist and delicious--too bad our only taste was the bit we fed each other!
The cake was distributed and the band started up again, and there was more dancing. We're told the guests really enjoyed the cake--we missed it, somehow.
It seemed just a few minutes more before the band was packing up and guests were saying goodbye. (Where did the time go?) We took our cue to toss the bouquet and the garter, and took our exit--running back out the stairs under a barrage of birdseed.

Previous wedding page


Back to wedding contents

Return to scrapbook index