In Orlando
After a rough flight from L.A. (our flight out of LAX was delayed four hours, causing us to miss our connection in Atlanta; Delta put us up in the "Soon-to-be-Radisson" for the three hours that we got to sleep in Atlanta) we arrived in Tampa airport early Sunday morning, December 20th. Michael and Susie met us at the airport, seven hours later than we were originally supposed to arrive.

From Tampa we drove to Orlando to hook up with Shirin and Anna, and we also got to catch up with Karyn and Derek.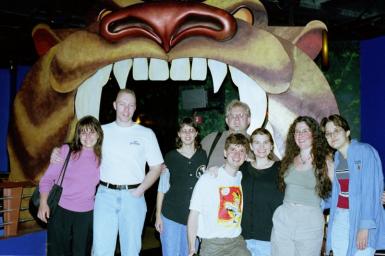 The eight of us then spent the rest of the day at DisneyQuest, where we had a fabulous time. It was a Sunday night in the wintertime, and the place wasn't too crowded. Although we couldn't actually walk straight onto any of the attractions, we never had to wait more than about fifteen minutes for any one ride.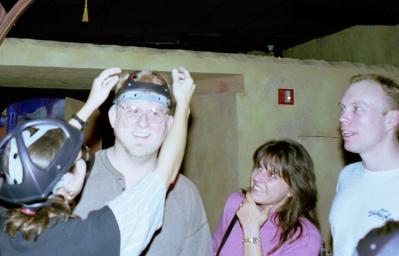 First, we had to play Aladdin, of course. The VR Studio's two rides were our main reason for coming here today. This was Dawn's first chance to see the Aladdin and Hercules installations, and my big chance to show off to everyone else.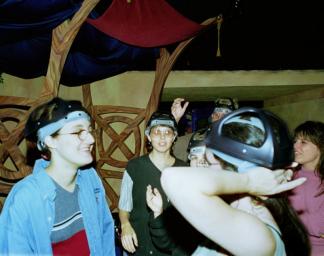 We all had to put on those silly plastic beanies while we waited in line.

And then we played, in two groups of four. David, Dawn, Shirin, and Anna played in the first group (and didn't finish in time); Michael, Susie, Karyn, and Derek played in the second (and Michael reached the genie first).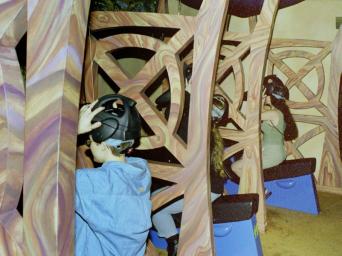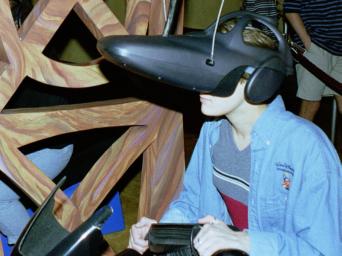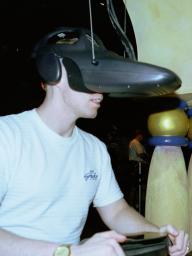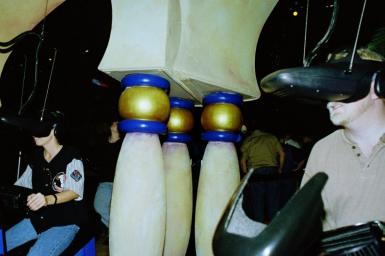 After Aladdin, we played Hercules, then Virtual Jungle Cruise, and then we needed some coffee.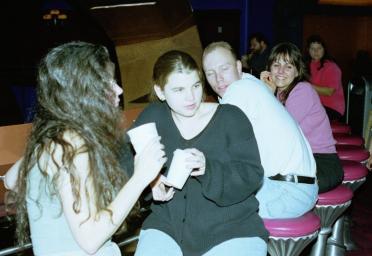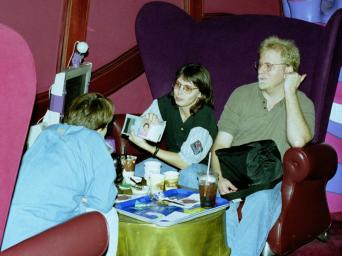 And then it was back to the games. We spent at least an hour at the redemption games, mainly playing Whack-A-Alien. Between the eight of us, we earned well over 300 points, which we never cashed in--I guess that Pez dispenser will have to wait for next time.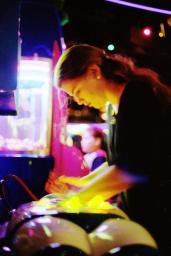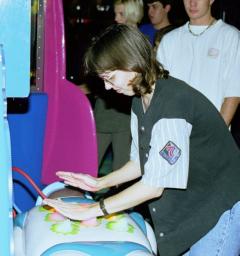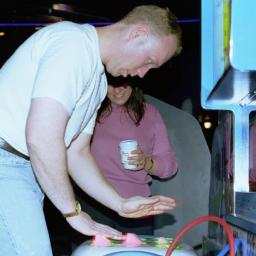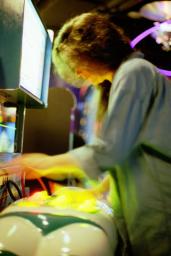 After Whack-A-Alien, we spent a few more hours playing. We did some classic video games, a couple of rounds of Astro Blaster (the bumper cars), the obligatory ride on Virtual Space Mountain, and we finally finished the evening off with a few rounds of air hockey.

Welcome to Key West


Back to Key West contents

Return to scrapbook index