Christmas '97
Michael, Susie, and Shirin visited us in our Glendale apartment during the last week of December 1997, and just a little bit of January.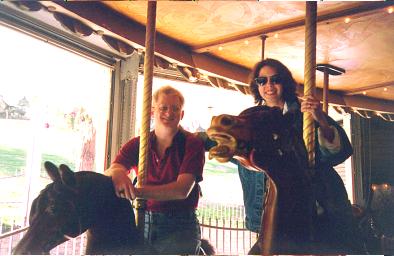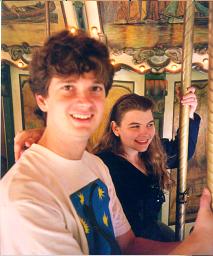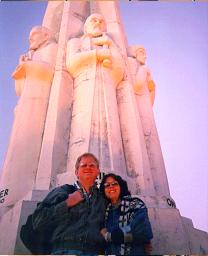 Before Shirin joined us, Michael, Susie, Dawn and I toured L.A. a little. Here we are riding the carousel, and visiting the observatory at Griffith Park.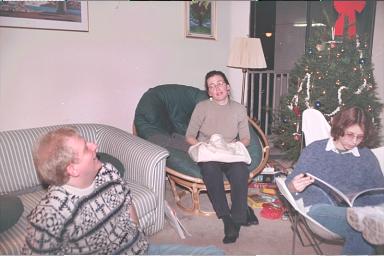 We enjoyed spending a fair amount of time sitting around and resting. This is, after all, a vacation!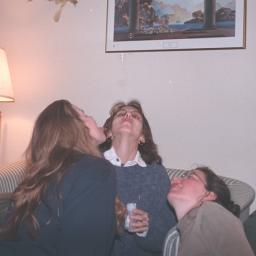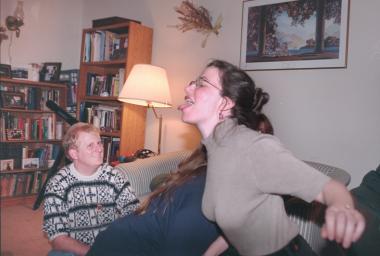 "Edible Bubbles" were also fun to play with. This is a novelty item, a bottle of bubble soap that makes bubbles you can catch on your tongue and eat, sort of. (Don't try to drink it straight from the bottle, though!)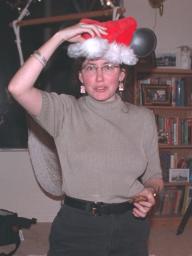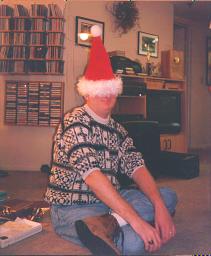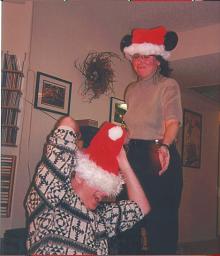 What could be more festive than oatmeal cookies and Santa hats (with or without Mickey ears)?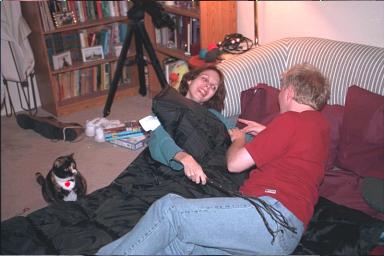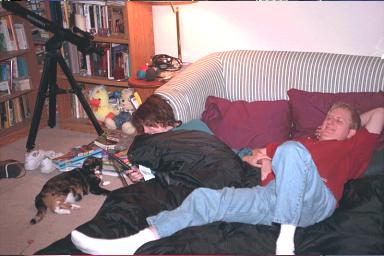 These two were nothing but trouble. Very entertaining to cats, though.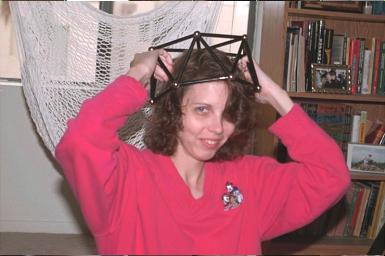 After you've opened all the presents, you get to play. Here's Susie modeling the latest in wearable toys. (This was a set of magnetic construction sticks that Dawn gave to me this year.)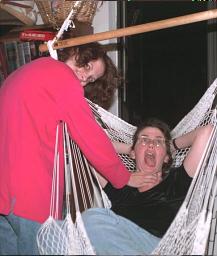 Good friends to the end.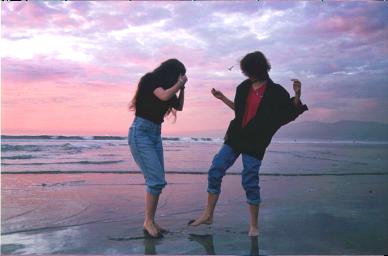 Susie and Shirin getting their feet wet in the Pacific, right around sunset. This is at Santa Monica.
Catalina Island
The five of us spent a day and a night at Catalina Island as a mini vacation within a vacation. It was nice to get out of the city for a while, and it was the first time to Catalina for all of us. You'll find the pictures here.
The Rose Parade
Michael and Susie would be going home very soon after New Year's Day. Therefore it was imperative that we try to pack as much into January 1 as possible! We started the new year right by staking out a stretch of grass along the Rose Parade route in Pasadena, so that we'd have a good view of the parade in the morning. (Jesse and Nyra joined us in this foolish venture.) Here's the story.
Of course, we didn't stop there. After we'd camped out all night and watched the parade, we all came back to our respective apartments and slept for a precious handful of hours--then back out into the world, for a full day at Disneyland. We did our best to send Michael and Susie home exhausted!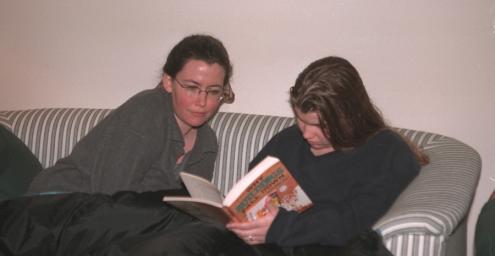 A quiet moment after it was all over.

Return to scrapbook index