The ceremony
Finally, the last guests were seated, and the ceremony music (1.2M) began. Dawn's mother was seated, and David, Michael, and Mr. Curtis took their places at the end of the gazebo ramp.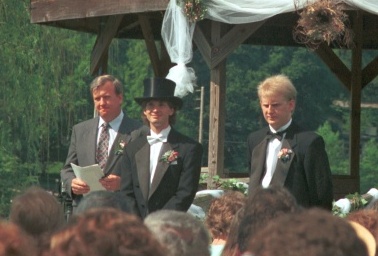 Meanwhile, the remaining honor attendants were walking down the aisle and taking their places to music as well.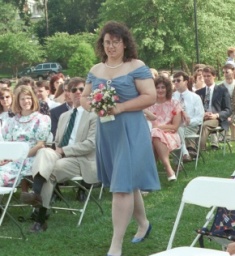 When everyone was standing ready, the bride's processional (1.1M) music began, and Dawn and her father began the long walk from the street.
She was here! Mr. Curtis read the ceremony, and everything proceeded wonderfully.
We asked each of our attendants to read a bit of poetry for the occasion.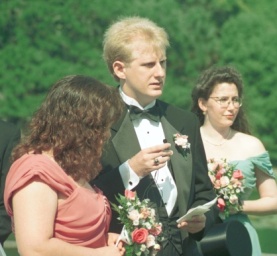 Except for a bit of fumbling with the microphone, everything went very smoothly.
Our kiss cued the recessional (725K), and the end of the ceremony! We ran back down the aisle, and our parents were escorted out behind us.

Previous wedding page


Next wedding page


Back to wedding contents

Return to scrapbook index